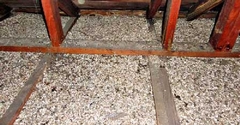 One of the most troubling questions a homeowner has to answer at some point is whether or not your family could be exposed to asbestos. We don't want to frighten you, but new facts have come to light that indicate that even if you weren't told you have asbestos in your home, you may. It's just disguised under a different name – vermiculite.
We've heard for many years about the dangers of asbestos; the panic began escalating with television ads for class action lawsuits in the '90s. Even today, if you search "asbestos class action lawsuits," you'll see lots of paid ads for Mesothelioma payouts.
As a general rule, unless you were working directly with asbestos, you aren't in danger, even if your home is or was insulated with asbestos. On its own, asbestos insulation is inert. Unless it's damaged in some way, the tiny fibers that cause such worry won't become airborne and impact your family. It is, of course, important to hire a certified asbestos removal contractor like Absolute DKI if you plan on replacing asbestos insulation. The government has strict guidelines for how to safely remove asbestos and where to dispose of the old insulation. You can't do it on your own.
Do you have vermiculate insulation in your property?
You may be certain you don't have asbestos in your home, but that may not actually be the case. A type of loose insulation called vermiculite is likely to be contaminated with asbestos. Over 70% of the vermiculite insulation in the US was mined and manufactured in Libby, Montana, between 1919 and 1990. What people didn't realize is that there was an asbestos deposit at that mining site. The government warns that you can assume that any vermiculite insulation contains asbestos.
We do, however, encourage families to avoid often going into areas with vermiculite insulation, especially the children. Their curious minds might encourage them to explore and play with the fluffy material. They should never be left unattended around that sort of insulation.
Like with asbestos insulation, if you don't plan on replacing your vermiculite, leave it alone. If you experience water, fire, or storm damage to your property, the restoration contractors at Absolute DKI will evaluate if you need to replace your insulation. If that's the case, they'll have to take the proper precautions to remove the insulation.
The bottom line is, you might have asbestos in your home, and you don't even know it. Unless your insulation is damaged or disturbed in some way, leave it alone. And, if it requires replacement, rely on certified asbestos removal contractors like Absolute DKI to safely get rid of it.