Simply airing out a room or pointing a fan at the floor will not properly dry out an area that has experienced flooding or water damage. Because of water's fluid properties, it will seep through porous materials to other structures or behind baseboards and drywalls. When you've had a water damage emergency at your house, it's best to have a certified water mitigation specialist come onsite to do moisture testing on surfaces and adjacent areas to determine the true extent of the water damage.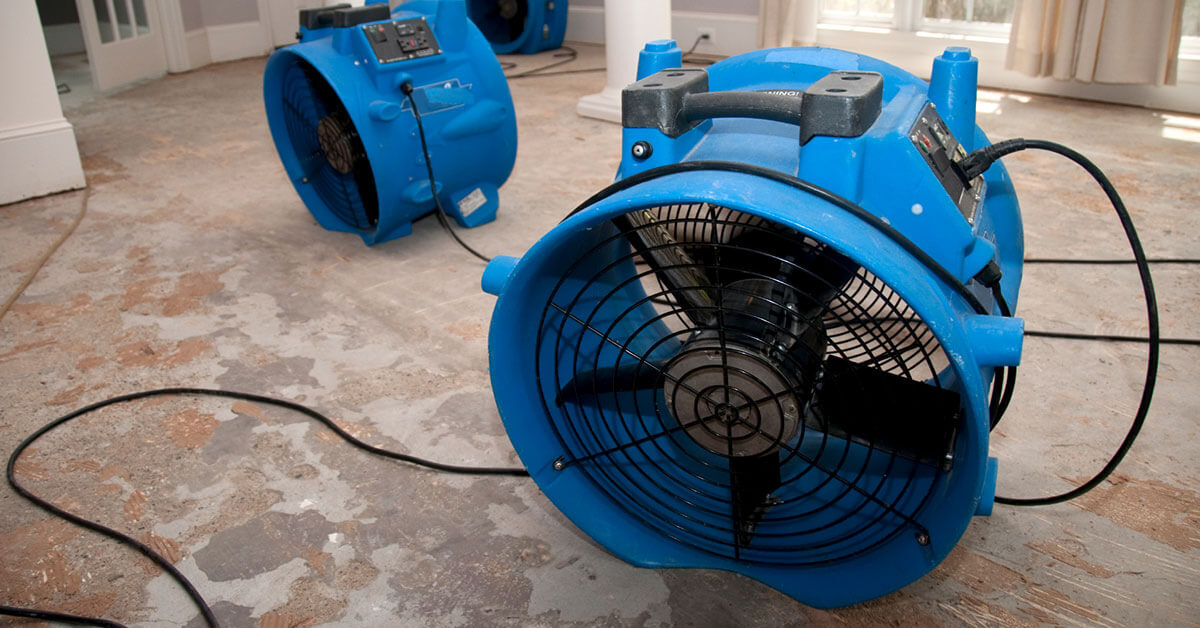 Structural Dryouts
When we are called to assess a water-damaged property, especially in relation to an insurance claim, our goal, and that of your insurance company, is to create a plan of action that will restore your home to pre-loss conditions. In many cases, sections of drywall or baseboard, and sometimes the flooring as well, will have to be removed in order to perform a structural dryout.
The studs and subfloor, usually hidden from view, are especially susceptible to water damage and can seriously reduce the structural integrity of your home if left wet or damp for more than 24 hours. For safety reasons, to reduce escalating damage from mold growth or expanding moisture problems, your insurance company will want you to take steps to dry out your home as soon as possible.
A water damage restoration company will have the industrial-strength fans and dehumidifiers necessary for this task, but they'll also be able to limit the amount of material that needs to be removed to create enough airflow to the home's structure for a thorough drying.
How Long Does It Take To Dry Out a Home?
Many restoration companies make false claims about how long any space will take to dry. "Three Days to Dry" is not always the case. Each area that water damage occurred is made up of multiple types of materials, and each will dry at a different rate.
What Should I Expect During a Structural Dryout?
Once the fans are in place, your restoration crew will periodically return to the property to do repeat moisture testing to gauge how fast the drying is occurring and to make any adjustments to the equipment to speed up the process. There will be some ambient noise from the machines.
My House is Finally Dry Again. What Happens Next?
One of the last phases of water damage restoration is the rebuild phase, when drywall, flooring, cabinets, etc., are re-installed. This can't happen until all of the moisture readings in the space register at a healthy level, between 30 and 50 percent, usually, depending on your region's climate. The water damage restoration contractor will put everything back together, according to the project scope approved by your insurance company.